Our outreach began today at Grace Primary School in Belize City at 8 a.m. On the way we picked up Olive, a local Belizean who will join us in the work. Her help is invaluable as she helps us to learn about Belize. She has a lot of connections as well. We are so glad to have her.
At Grace Primary School the team ministered to about 200 primary students and their teachers. Through songs, testimonies, gospel illusions and sketch board the team presented the gospel.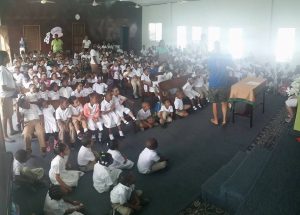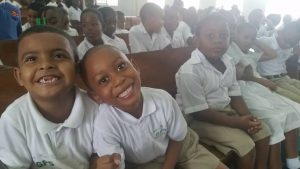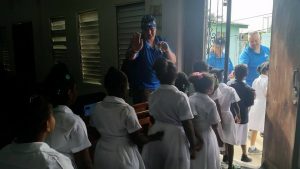 After this the team proceeded to a local restaurant for one of the teaching sessions. The team enjoyed ice cream and air conditioning in a large upper room. There Sean taught a lesson on Soteriology, the branch of Theology that deals with the doctrines of salvation.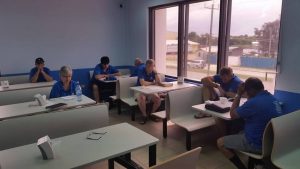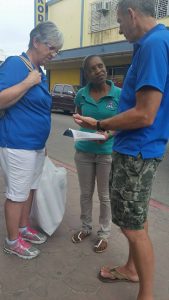 For the rest of the morning the team did street evangelism in downtown Belize City. Tim set up the paint board and the team divided into pairs to walk the main street, hand out tracts and engage in conversation with this passing by. It was surprising how open and receptive people were. Almost everybody we met accepted the gospel literature and many stopped to chat.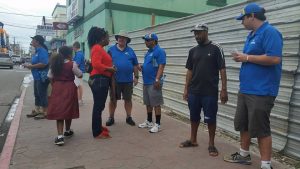 For lunch the team stopped at a fried chicken outlet. "Kick Down Fence" (named after a gang), is a popular place where there is always a group of people crowded around a steel grated window through which a Chinese family sells chicken all day long. Lunch costs $4 Belize ($2USD). The team ate their lunch just a few blocks away at Mr. Cain's, who is an elder at Grace Chapel. His wife operates a small stationary business out of the front of their house, which is where the team printed up invitations for the Gospel meeting planned for Sunday evening.
After lunch the team returned to Western Paradise to distribute the invitations door-to-door. Almost the whole town was covered. By this time the team was very happy to be back in the air-conditioned vehicle and heading back to Sean and Vera's. After a short rest and a quick freshen up, it was time to head back to the city with our Bibles for prayer meeting at Grace Chapel.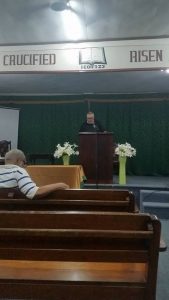 The team was warmly welcomed at the midweek prayer meeting. Keith shared his testimony and Bruce gave a stirring, if not convicting message on the need to be soul winning in the light of eternity. He said, "If Jesus said, 'Follow me and I will make you fishers of men', can I say that I am a follower of Christ if I am not fishing for men?" The ministry was followed by a time of prayer with several groups of men and women praying.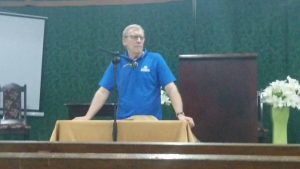 Supper was very late but heartily eaten and enjoyed. On the menu: bacon and eggs! Everyone was exhausted; but still, there was boisterous laughter and excitement around the table as the team members retold all the stories and impressions from the day. This is one of the great joys of serving the Lord as a team; the deep joy that comes as a result of making yourself available to join together in the great task of fishing for men.
Now the team needs a good rest; tomorrow they are to climb an ancient Maya ruin and go cave tubing. No doubt there will be many interruptions. Interruptions that are actually divine appointments, that is, more opportunities to fish!
-Sean for the Team
Like and follow eTeams on Facebook for more news and updates!