Today Tim and Sean decided the team would see the sights and experiences of Belize. First we headed out to the Xunantunich archeological site to see the ancient Mayan ruins.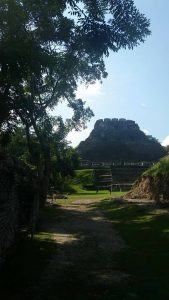 After a short hike into the site we had the opportunity to spend time on the steps of this historic, restored monument to false gods and enjoy a devotion on the one true God and his wonderful grace to us.

We were able to climb the large re-built mounds and see majestic vistas from the high elevation, stretching across the border into Guatemala.
After our visit to the ruins we planned to go zip lining over the forest canopy. On the way we had a sudden bump on the road. Bruce was driving, and noticed immediately that the car was swerving badly. He was able to pull over to the side of the road without losing control, and we discovered that we had blown out a tire. We are grateful for the safe stop and quick change of tires that got us back on the road. After a nice lunch of chicken and rice we took in the beautiful forest flora hiking through trails and then floating down a lazy river through spectacular underground caverns, taking in wonderful views of God's great creation. We rushed back to Sean and Vera's for a quick change of clothes and a bite to eat, and then back in the car again, this time to the meet with believers at the local assembly in Burrell Boom. Bruce shared his testimony with the group that had gathered, and John provided a message from Matthew 11:28-30 and John 3:14, encouraging us to find rest in Christ and to keep our focus on the saviour and his sacrifice for us.

-Keith for the team.
Like and follow eTeams on Facebook for more news and updates!