Today was the earliest start yet for the team. By 6:45 am we were heading to King's College, about an hour north from the city. King's College is a Christian Boarding High School, established in 1967 by Gospel Missionary Union of Canada.
Today was the fourth visit by eTeams and was recieved warmly and enthusiastically again.
Team members sang songs, gave their testimony and presented the gospel as at other locations. The team enjoyed lively conversation with the students afterward and left literature with all. It was so encouraging to have such a warm welcome from staff and students. Sean was invited by Pedro the principle to speak in Spanish at the little church that he is planting in the nearby community. Hopefully that can come to fruition soon.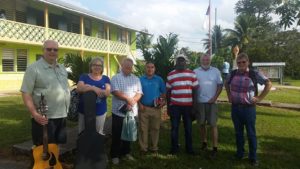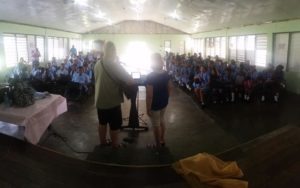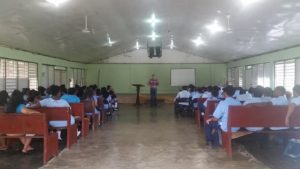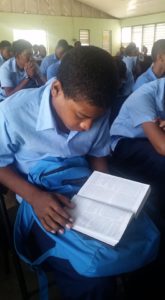 Our next stop was to visit a lady who recently lost her husband. However, upon arrival she was not up to the visit. Sean's friend, an elder at a nearby assembly, lives next store and was home so we stopped in. Mark has a big ranch and the team got to see the famous Gibnut or "Royal Rat" as it is called, because it was fed to the Queen upon her visit to Belize in 1981. The team was treated to Turtle stew and other things the team has never eaten.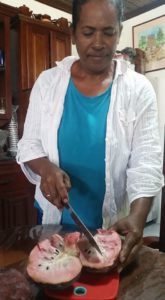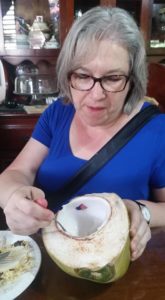 For lunch we were due at another sister's home up the road. There we enjoyed an amazing lunch and some shade, breeze (it's so very hot!) and more prayer.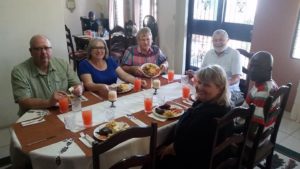 Back in the city we met Alvan, who has been working with the team most of the time, and went downtown to hand out more tracts. We had conversations with several people, including one man was very angry that we were preaching and just wanted to argue. This is actually very rare as 99% of the people who receive the tracts are open to talk as well.
After supper the team split up again between Western Paradise and Grace Chapel. Don spoke on the rapture at Grace while Jeff spoke at Western Paradise.
At about 9 pm we were all back together at our host's and enjoyed a chat and more prayer. Sean and Wayne made some last minute adjustments to the plan for our program at Belize Central Prison tomorrow. Last time the team visited the majority of the men were Spanish speakers, so we are looking forward to a bilingual service. 
All of us are tired and would appreciate your prayers.
-Sean for the team
Thank you to all who are praying for and supporting this effort. Click here to go to our Facebook page for more updates, pictures and videos from the current eTeam in Belize!