Monday we had a change of plans! We had planned an excursion for the morning that had to be cancelled because the battery was stolen out of our van, but it was just as well as three team members came down with travellers stomach flu. Wayne and Don went on a search for medicine. While in the pharmacy / supermarket they met an East Indian man who, upon being greeted, responded with God bless you. Wayne asked "Are you are Christian?", and he responded "Yes". "When did you get saved and how did that happen?" "Well" he said, "I had a Guatemalan girlfriend that was always preaching at me. I said that isn't right. I have my God and you have your God. We watched a gospel movie on the life of Jesus and I realized this was a true story and all our religious stories were made up stories and I saw that Jesus loved me and died for my sins. I got saved five years ago." His face showed it!
He had just gotten back from a Christian conference in Honduras where he had brought his friend. Wayne asked him if he was a Christian as well. He answered "No." Wayne said, "Not yet!" and asked him if he had a Bible. He didn't, so Wayne gave him a nice leather New Testament that he had bought in Canada. He said "Thanks, because me and my friend are flying back to India tomorrow and it is a 16 hour flight so I will have lots of time to read it."
In the afternoon while out for a  swim team team members had a chance to share the gospel with some people from Florida, El Salvador and Belize. People are open to talk freely.
Then after supper we spent some time practicing some hymns and choruses as well as organizing music, programs and literature. Praise God as those who felt ill recovered. Please pray for more opportunities on Tuesday as we visit some youth detention centers, visit door-to-door distributing tracts, and preach at two assembly meetings in the evening.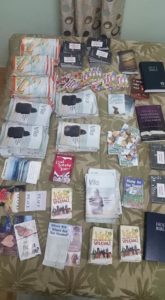 Thank you to all who are praying for and supporting this effort. Click here to go to our Facebook page for more updates, pictures and videos from the current eTeam in Belize!