It was an early start again today as we had to be at the ferry terminal by 7:30 am to catch a water taxi to Caye Caulker, a little island about a 50 min boat ride out and up the coast.
When we arrived our snorkel guide was waiting for us. We were all suited up with flippers etc. for the three hour excursion out to the reef. Belize is home to the 2nd largest living barrier reef in the world. The team had the opportunity to swim with nurse sharks and snorkel among coral and tropical fish. We even saw a four foot Barracuda lurking around. We saw sea horses and fed huge tarpon fish. The unique experience was a nice conclusion to the trip. While enjoying coffee at Ice 'n' Beans we had a long discussion with a local and were heckled and laughed at by a group of North American tourists. Some listened intently to the answers given.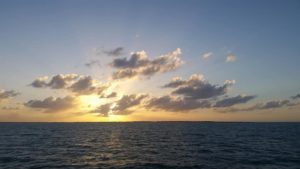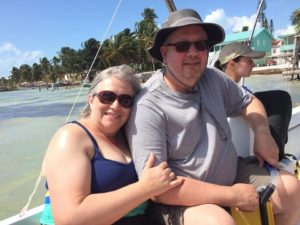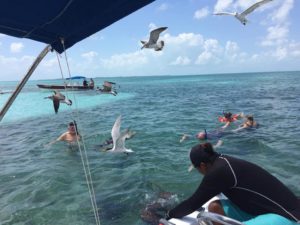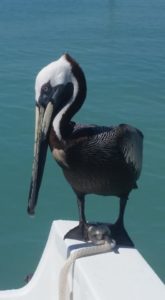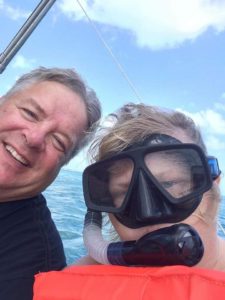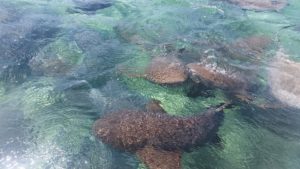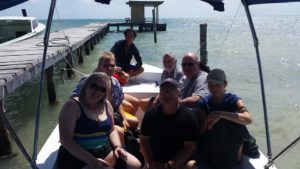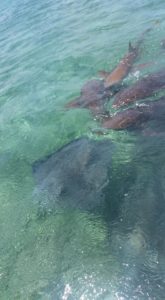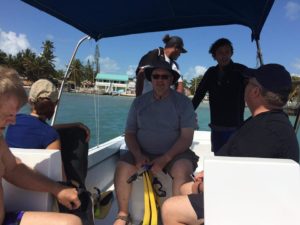 Denfield, our faithful driver, met us back in the city. The team, many of whom were looking a bit like lobsters, freshened up at Ms Myrna's before the last eTeam supper.
The last day of eTeams is always fun, but sad at the same time. There is a real sense of encouragement as you think back together on the last two weeks, just a blurr now. So many meetings, people, opportunities and open doors. Friendships are forged that will endure eternity. Stories abound and there is much laughter. Anticipation of returning home to loved ones is palpable too.
But goodbyes are never easy. The team is weary and the work has been exhausting. Wayne treated the whole team to supper at a restaurant and now another team effort is in the books. Hopefully names of sinners saved are written down in glory. Please pray, everyone who has read these updates. Pray for the team as they make their journey home. Let's pray for Belize. Pray the Lord of the harvest that He will send forth laborers. Pray for the hundreds and hundreds of pieces of literature distributed and people talked to. And finally, thank God for preserving and blessing and using the team.
-Sean for the team
Thank you to all who have been praying for and supporting this effort. Click here to go to our Facebook page for more updates, pictures and videos. Are you interested in serving the Lord on a short-term mission? Click here to go to the eTeams website to learn more about eTeams and our upcoming trips!