On Friday we once again left early for Grace Primary School. At Grace we sang songs, Micheal gave his testimony, Keith presented a gospel illusion, and John gave a message. After the children were dismissed to their classes Michael led the team in our daily devotional, reminding us of the dangers of the tongue from James 3.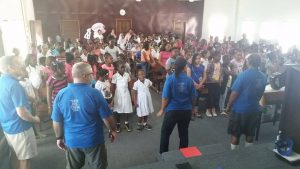 We then went to the bus station with the sketch board to do some open air work. Tim preached a short gospel message on the board and entire team had meaningful chats with several different people. We also handed out a few hundred gospel tracts.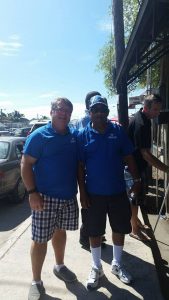 A dear sister who lives near the bus station invited us for a delicious lunch. In the afternoon we handed out invitations to a gospel meeting and dinner in Western Paradise in support of the small assembly there. After a short break we headed to the home of a local Belizean couple, who are members of our team, for a tasty meal. We then went back into town for the youth outreach called Overflow. Upon arrival one of the sisters helping with the outreach, Kathleen, was crying heavily and told us about an accident. A couple from the church were in a car accident with their 17 year old daughter, Aurora. Aurora was the only one to survive with a broken leg and arm. She is a granddaughter of one of the elders at Grace Chapel, and was set to be baptized this Sunday. Our hearts were heavy for Aurora and for her grandparents (Mr + Mrs Cain). But as the youth heard about the accident they seemed even more attentive to the gospel being preached. We ended up getting home around midnight.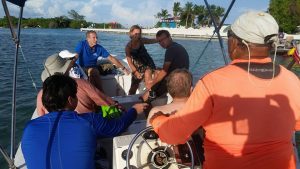 Saturday was a day of recreation and relaxation for the team. We got up very early again to get the water taxi to Caye Caulker. Upon arrival at the Caye we had a good walk around and fed some large tarpon. While walking around we handed out several tracts and Micheal got to do the rope trick with some children. The remainder of the day was spent on a snorkeling expedition.  The team enjoyed a meal at a nice restaurant, and following this headed back to Sean and Vera's, where most were preparing to preach on Sunday.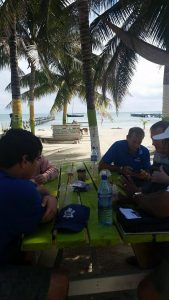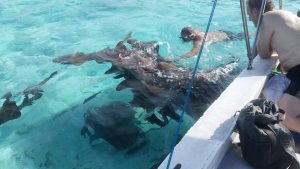 Like and follow
eTeams
on Facebook for more news and updates!