We began the day with an 8:15 am visit to Grace Primary Extension School, ages 10 – 14. Most of the hundred or so students would not come from a Christian home, so it was a good opportunity to share the Gospel with them. Jeff led us in singing, while Emily, Don, Alvin and Denfileld provided backup. Wayne did the rope trick (he is getting good at it!), Jeff shared his testimony and Sean gave a message about Blondin and his tight-rope walks across the Niagara Gorge. Hopefully the children got the message about trusting the Lord, and only the Lord, for salvation. We then had some time to mingle with the children. Some tried the rope trick but none were able to figure it out. Many were drawn to the guitar and each of us had time to talk to the youngsters, give out some tracts and encourage them to follow the Lord.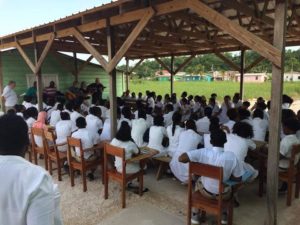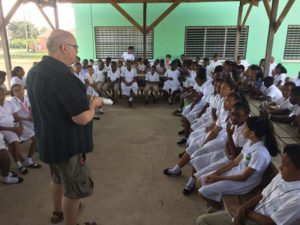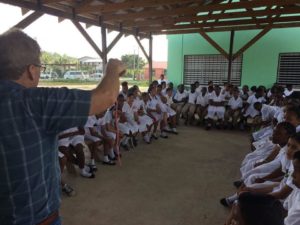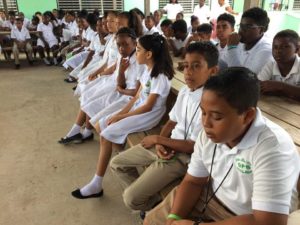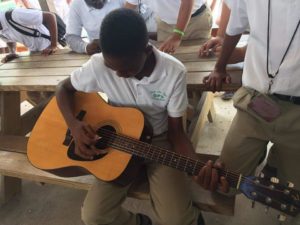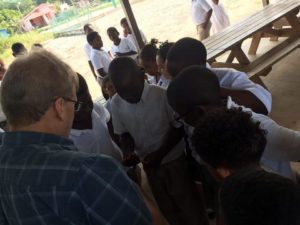 We then went to the bus depot area where we joined by Ian and Jacob Walton. We handed out invitations to Grace Chapel as well as English & Spanish Via magazines and other tracts. Sean, Emily and Don went through the market handing out literature. As Sean had a good opening in Spanish, I, Don, asked some if they would like something to read in Canadian. All said they didn't speak Canadian, but when they took the literature anyhow, were pleased to see it in English. One thing we noticed was that if there were a number of people in a group and you missed one, they would ask you for one. This is really cool. During this time several of the team had conversations with passers-by. There were some good opportunities in the gospel, but others were frustrating because the person was only interested in raising their objections. However, the seed was sown, and we pray for fruit.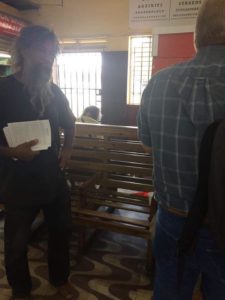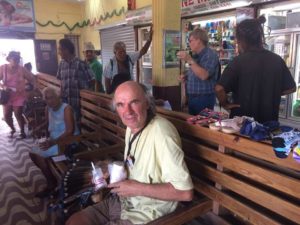 We set up a PS system across the road and several team members took turns giving a gospel message. While the message was going forth, all others picked a spot along the sidewalk or at a corner and handed out more literature – even some on bikes and in cars reached out and took literature.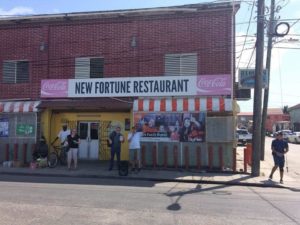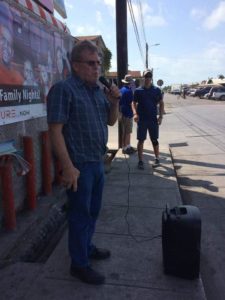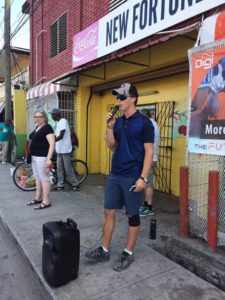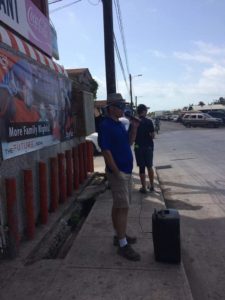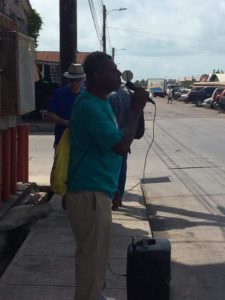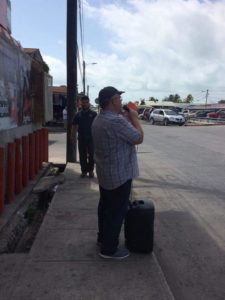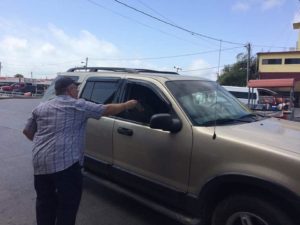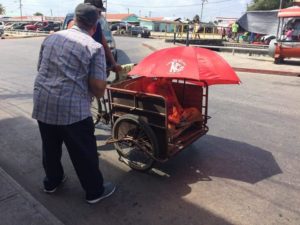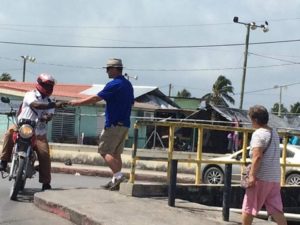 One contact indicated it would be nice to have a team visit their country of Columbia, which would require more ability to speak Spanish. He was told that eTeam stands for Equip, Evangelize, and Encourage in English, but there is a good possibility of a Spanish eTeam. Something to pray about.
We went for lunch about 12:30pm, take-away from a little sidewalk eartery know as Kick Down Fence. The roasted chicken and chips were good.
After lunch we were supposed to attend a mens shelter, but that was cancelled, so we went home for a little rest and to prepare for upcoming events. Don & Wayne went to a supermarket for a coffee and time of fellowship and handed out some literature along the way.
I think each of us are feeling the heat and humidity a little more today. We are a little more weary, so are glad for the extra R & R. We all remain in good health in spite of some hints of sore throat and some earlier stomach concerns, but we are all good to go!
We attended the 5.30 pm prayer meeting at Berea Bible Chapel in Belize, and now we are home for a late supper – we are getting more Belezian every day. So ends another day of rich blessing.
-Don for the team
Thank you to all who are praying for and supporting this effort. Click here to go to our Facebook page for more updates, pictures and videos from the current eTeam in Belize!